Fabrics are rapidly increasing their value over a while. After all, it's about appearance. In this era, clothes have become the first and foremost priority not only in India but across the globe.
I've reviewed a wide range of brands & varieties in the washing machine category. That said, I still have my inbox full of requests to compare brands.
Keeping the importance & reliability in mind, in this article, I'd first go ahead with the complete comparison of Bosch vs LG Washing Machine as they are the leading brands.
With this, I'd say people are genuinely very cautious about selecting a particular brand when it comes to home appliances.
And this is something very much appreciated…
Yes, because it's about hard-earned money, and I believe one should certainly be entirely satisfied with the brand before making a final call.
Overview – Bosch vs LG Washing Machine
Before we proceed further in the article, I'd recommend the most reliable brand, which will eventually save you valuable time. If you are a small family of maybe around four members, then this particular Bosch automatic front load model would be a great fit. The reason being, it is a reliable brand that will undoubtedly work for years without interruption.
And coming to couples and bachelors, I'd suggest considering this top load model of Bosch. It is one of the best in class when it comes to technology and engineering. Lastly, people looking to control the machine through smartphones can go with this excellent model of LG machine.
Overall if we see, the quality of both the brands is exceptionally well at the upper end of the market.
Both the machines achieve the desired results and do the job right. Just that, some of the models may have a couple of different features.
Being an expert working on this project, I found that the motors & basic features are almost the same for all the models.
Just that they have different promotion & sales strategies, they come up with different cases, appearance, design, panel, which makes them named differently.
After all, they both would only perform a wash cycle within a certain period, with may be an addition of a wash program.
In Bosch washing machines, you'd see the I-dos feature, which automatically senses and dispenses liquid detergent into the drum.
Whereas LG uses a brushless drive motor with direct drive technology, which acts super quiet. The technology reduces noise and vibration to the best of its ability, making it a silent and effective wash cycle.
In conclusion, I'd say both the brands are perfect, and I would suggest you instead focus on the deals/offers and, most notably, the price that you've planned.
But since you are here, I'll go ahead and with the complete comparison of features, technologies, post-sales service. In my opinion, I prefer Bosch over LG.
Now your question most certainly would be, Why?
Let's get the answer!
Popularity vs Engineering Expertise
LG Expertise
LG is one of the perceptible brands ruling the market for over two decades and is entirely familiar with Indian culture psychology.
South Korean brands like LG and Samsung reserve a colossal market share in India and across the globe. The reason being, their products are priced slightly less as compared to the German brands like Bosch.
For them, customer experience and service come first. They provide remarkable service to a conventional customer as well, and perhaps that's what makes them a step ahead in terms of reliability.
However, looking at the market share figure, Bosch is the only leading brand across the globe.
LG manufactures top-notch quality products with efficient performance. Getting a product delivered promptly isn't only a primary concern an individual would envision from a well-established brand.
After-sales administrations and support are certainly one of the key perspectives an individual thinks before purchasing an appliance.
And I believe LG deserves the credit here…
You May Like – Bosch vs IFB Washing Machine
Bosch Still A Step Ahead
German brands like Bosch are the most favored for their engineering & build quality globally. Bosch's products made by Bosch are for generations to ensure they are not considered compared with other products.
The short answer here would be, if you are looking for only reliability, both brands would be an ideal choice.
However, if you are looking for the latest technology, innovative features, and looking to invest in a premium brand, Bosch is what you need!
Here are some handy features that Bosch uses in their washing machine:-
Heating Options
Quick 15
Timer
Power Efficient – Consumes 20% Less Electricity
Front Load & Fully Automatic Control
Anti-Vibration Side Walls To Reduce Noise
Laundry Distribution
Stainless Steel Drum
And so one!
Further, I'm going to compare 7KG capacity washing machines of both the brands.
I'll mention all the features used by both and how they work.
The reason, I chosen 7Kg is because it is a standard capacity suitable for medium, sized family around (5 Members)
Let's dive right in!
So, both the washing machines have a capacity of 7KG, and the control type is Fully Automatic Front Load.
The RPM speed of both the models is 1200 RPM, which is impressive. The clothes come out almost dry, which helps in saving your valuable time.
The size of the drum of Bosch is slightly larger as compared to LG. They also use stainless steel drum quality.
Additionally, it includes a Bosch drum clean feature that removes the impurities and toxic residues in the best possible manner.
LG has this great feature of 6 motion direct drive technology, which lets the drum move in a 360-degree direction.
It ensures that even the stubborn stains are also removed with ease. As the drum rotates in all directions, it makes less noise & vibration during the wash cycle.
LG also uses Spa technology in a few of their models. It acts as if dealing with humans & makes sure the clothes are washed efficiently. Most importantly, it prevents the fabric from any damage.
At the same time, Bosch features foam control. The smart sensor detects excess foam and dissolves it in the water. Once done, it removes it from the drum.
Qualities of LG Machines
Electricity Cuts – [ Resolved ]
If you live at a location with frequent power cuts, that won't be an issue with LG. You'll get a smart Auto Restart feature, which automatically resumes the wash cycle from where it left.
If you have kids in the house, I'm sure you would certainly be dealing with stubborn stains, and I understand it is very tough to get rid of them.
That said, most of the LG machines come with inbuilt-heaters, which can heat water as high as 60 degrees celsius, which is the critical perspective to remove tough stains with ease.
Every fabric requires maintenance to maintain its originality. Hence, LG acts tough on stains but ensures to take care of the fabric quality correctly.
Exceptional Washing & Safety
People who are always short of time and do multitasking, LG is most definitely the ideal choice for you.
The reason being, they have launched this Smart ThinQ application feature. You can now connect your smartphone to the washing machine and access it from anywhere at your convenience.
Dust is the foremost concern of Indian locations. That said, LG ensures a stainless steel drum quality, which is one of the best.
No additional material is used, which ensures the machine always remains dust-free whenever you take it out.
Not only this, but LG also has the safest infrastructure. The digital touch panel and also the front panel is waterproof.
Here's the real-time example below, check it out!
Post Sales Service – All That Matters!
In this article, I feel this is the most crucial aspect that we all have to consider before a buying decision.
Undoubtedly, I'll give credit to LG here. The reason being, they have multiple service centers and technicians located in every city, even in specific areas.
They have all sorts of technical support, including Tier 1, 2 & 3, to ensure the users don't experience inconvenience.
They are super easy to reach out, and the support staff is accommodating. Based on my personal experience, you can rest assured of LG service if you opt for this brand.
And I feel this is where Bosch needs to work hard. Since they are a german based brand, they don't have a lot of service centers here.
Although they claim that you won't require support and a hassle-free experience after installation, you never know it's only a machine.
Even if you check the leading eCommerce stores, they have mentioned that Bosch will contact you for installation, which may take around 36-48 hours. That means, within four days.
Additionally, it may take a bit longer for containment zones due to this pandemic. Also, I feel this is the only aspect wherein they don't have many good reviews.
In conclusion, LG has a better after-sales service as compared to Bosch.
Do Read – Bosch WAK24168IN vs WAK24268IN
Inverter Direct Drive & Steam Wash
Inverter technology in washing machines is something that you are going to love. In traditional models, the motor is connected to the drum using gears & plates.
However, in direct drive the motor is connected directly to the drum, which reduces the noise level and vibration. I won't say that it doesn't make noise; however, it certainly gets it minimal.
Steam wash gives extra care not only to sensitive but all fabric types. It entirely removes dust mites & pet allergen from your clothes and sterilizes bacteria at the same time.
Let's now discuss Bosch.
Qualities of Bosch Machines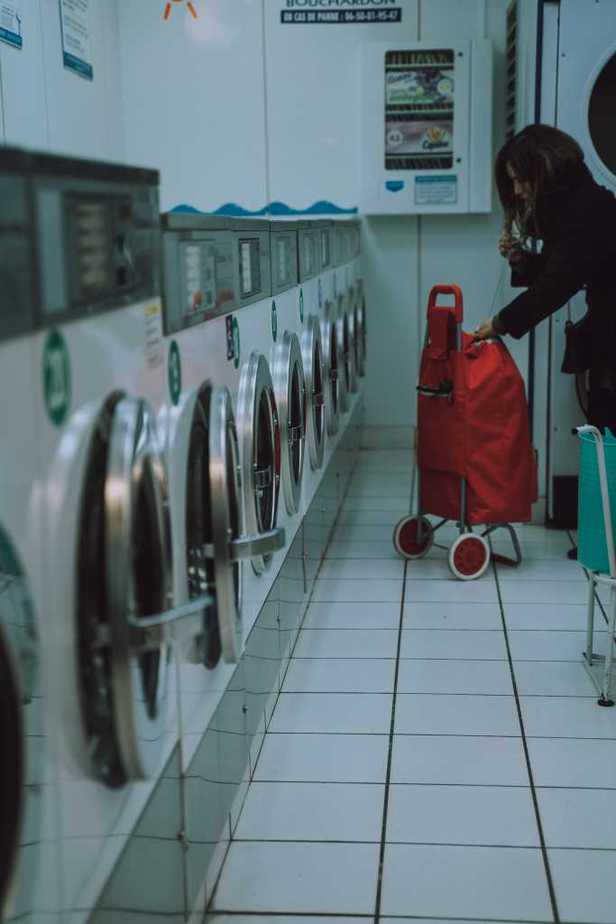 Innovative Features
Quick & fresh laundry is one of the best features of Bosch. There is an express wash feature in Bosch machines, ensuring you get a hygienically cleaned laundry in as less as 60 minutes.
There is a super helpful feature wash program of Allergen-Free in Bosch machines. This feature eradicates detergent residue and impurities, making sure the clothes are allergy-free.
Most importantly, the VarioPerfect feature saves electricity and time. This exceptional program allows you to clean your clothes by saving 20% on electricity and 65% on the overall wash cycle.
Just as the name suggests, we have another great Vario Drum Design. It is a dual-sided drum that provides a complete wash cycle and protects even the most delicate clothes.
The drum basically spins in a couple of directions, let's understand how the process works.
If the drum rotates in the opposite direction, the paddle's steep side has a wave-droplet design that ensures a deep and practical clean.
And when the drum rotates in one direction, the paddle's flat side gently cleanses the fabric and prevents any unintentional damage to the clothes.
Reliability & Performance
Another great feature is the Super 15/30 program. You can freshen up lightly-soiled laundry in as less as 15 minutes.
Bosch truly values your time. With perfect speed technology, the wash cycle gets completed in about 65% less time, and at the same time, there won't be any discrepancies in results.
The wash process is super silent & powerful. They feature a friction-free eco silence drive motor, which minimizes the heat level.
Additionally, there's a monsoon program that is specially designed keeping Indian weather conditions in mind. It helps remove smell & foul odor causes in clothes during monsoon season.
Even if you don't have a mainline voltage stabilizer, the machine has an inbuilt volt check feature that keeps checking voltage fluctuations and interruptions, keeping the appliance safe.
Now below, I'm going to present a table which will help you understand the feature difference between both models.
There you go!
| | | |
| --- | --- | --- |
| | | |
| | | |
| | | |
| | | |
| | | |
| | | |
| | | |
| | | |
| | | |
| | | |
| | | |
| | | |
| | | |
| | | |
| | 2 Years on Product (10 Years Motor) | 2 Years on Product (10 Years Motor) |
| | | |
Bosch vs LG Washing Machines – Verdict:-
There was a lot to discuss in the above article, and I've made sure we cover all the essential points to get the answers to all your questions.
I hope you are all set to make the decision, now, let me share my recommendation if that helps!
With all the buzz surrounding, I'd say go ahead with Bosch if you are looking to invest in a premium brand having all the qualities.
Also, Bosch is suitable for those who do not have price constraints. And if you are primarily focussed on after-sales service & reliability, then LG is the perfect fit for you.
That said, you won't end up making a wrong decision choosing either of the brands.
This brings me to the end of the Bosch vs LG Washing Machine in Indian detailed review. Please do let me know in case of any doubts or questions.
Lastly, do not forget to check the user reviews thoroughly before making a final call…
Last update on 2023-09-27 / Affiliate links / Images from Amazon Product Advertising API