This comprehensive article is all about the ultimate guide to the best vegetable chopper in India.
Anyone who cooks knows the pain and how much time it takes to chop vegetables. It is even more, especially during the chopping of garlic, onion, or carrots.
Cutting vegetables not only consumes time, but it can be inconsistent. Additionally, the traditional way isn't considered safe nowadays.
That said, if you'd like to skip the chopping process, which undoubtedly takes time and effort, you need a vegetable chopper.
These small devices are made of plastic and make your job even more comfortable. Additionally, it saves you valuable time. You can also use a vegetable cutter to mincemeat or chicken if in case you're a non-vegetarian.
They come in different varieties and functions, and there are a few things that you need to keep in mind before you make a final call.
So, I've compiled a list of 11 great vegetable cutters and choppers available in India. I have ranked them based on their efficiency, ratings, value, quality, and user reviews. I'd also suggest you read out the buying guide right at the bottom to get in-depth of things to consider before you buy.
11 Best Vegetable Chopper in India 2023
| # | Preview | Product | Rating | Price | |
| --- | --- | --- | --- | --- | --- |
| 1 | | Pigeon Polypropylene Mini Handy and Compact Chopper with 3 Blades for Effortlessly Chopping... | 275,454 Reviews | ₹ 199 | Check Sale Price |
| 2 | | Signoraware Quick Chopper Multipurpose Manual Vegetable, Dry Fruit and Onion Handy Chopper and Quick... | | ₹ 349 | Check Sale Price |
| 3 | | E-COSMOS Food Chopper 900ml, Steel Large Manual Hand-Press Vegetable Chopper Mixer Cutter to Cut... | 364 Reviews | ₹ 349 | Check Sale Price |
| 4 | | Butterfly Premium Vegetable Chopper 900 Ml, Blue | 47,706 Reviews | ₹ 324 | Check Sale Price |
| 5 | | Tosaa Manual Press Fruit & Vegetable Chopper, with 3 Stainless Steel Blades, 1 Whisker, Anti-Slip... | 154 Reviews | ₹ 255 | Check Sale Price |
| 6 | | GOPI Manual Handy Chopper for Kitchen Use, Onion Chopper, Vegetable Chopper (1000 ML, Blue) | 5 Reviews | ₹ 209 | Check Sale Price |
| 7 | | Zexer Mini Manual Vegetable Chopper- Portable Food Processor for Vegetables, Garlic, Onion and... | 1 Reviews | ₹ 125 | Check Sale Price |
| 8 | | Max Senso Push Chopper for Kitchen/Manual Chopper/Fruit and Vegetable chopper/1000ml Chopper with on... | | ₹ 440 | Check Sale Price |
| 9 | | Amazon Brand - Solimo 10-in-1 Manual Food Processor Atta Maker, Vegetable Chopper, Slicer and Grater... | 70 Reviews | ₹ 569 | Check Sale Price |
| 10 | | HomeCloud Chopper Manual | Vegetable Cutter | Attractive Design Multi-Purpose, Easy to use, Sharp... | 232 Reviews | ₹ 787 | Check Sale Price |
Number one we have is a great model of the mini plastic chopper from Pigeon. This model has got thousands of fantastic reviews, which makes it one of the most reliable machines.
It is an excellent and affordable solution to all your fruits and vegetables chopping requirements.
The vegetable chopper has a unique string design that includes three durable and sharp stainless steel blades. The high configured machine performs uniform cutting in a hassle-free manner.
It is manufactured using sturdy and unbreakable ABS plastic material, which enables long-lasting superior performance. Additionally, it makes it highly durable for regular usage.
The blades are incredibly sharp for chopping, even heavy-duty tasks with ease. There is no quality compromise of sharpness, even if you use it regularly.
This vegetable chopper is user friendly and has an easy to use operation. The food-grade BPA plastic is safe to use. It consists of short strings that need to be pulled to rotate the blades that start the process. The simple design lets you conveniently disassemble for easy cleaning & maintenance.
Specs Overview:-
Color:- Green
Package Contents:- 1 Piece Handy Chopper
Model Number:- 12420
Material:- Plastic
Warranty:- 30 Days warranty only on manufacturing defect (T&C apply)
Weight:- 250 Gram
Dimensions:- 10.1 x 13.1 x 13.3 CM
---
Second up, we have a vegetable chopper from a great brand. It is specially designed to make the chopping task convenient for you. Blue and green color variants are available that you can choose as per your preference.
This product has a capacity of 500 ML, which is sufficient enough to chop a considerable amount of content. It ultimately saves your time and effort, making sure that heavy-duty tasks are completed with ease.
The vegetable cutter is manufactured using strong polystyrene, and its container lid is made of polypropylene. Additionally, the three top-notch quality stainless steel blades make it durable and entirely capable of withstanding a robust chopping process.
The chopper's accessibility is exceptionally effortless; you'll only have to use the spring and a thread. Once you pull the thread, the blade gets rotated. The vegetable will get chopped depending on the number of strokes and the amount of force.
The chopper container comes with a lid that includes four locks. You won't have to worry about any slippage in use because it quickly locks the lid firmly in place. To unlock it, you have to twist it in the opposite direction.
Specs Overview:-
Color:- Available in Green & Blue Color
Package Contents:- 1 Piece Vegetable Chopper (500 ml)
Model Number:- Solimo 500ml
Material:- Plastic
Warranty:- NA
Weight:- 280 Gram
Dimensions:- 13.5 x 13.5 x 8.5 CM
---
Next up, we have a non-electric vegetable chopper with around 12 blades used for various purposes.
The best part is, you can not only chop vegetables, but it gives you an option to slice, grate and shred as well and that too in different varieties. There is grating thinness that lets you decide the thinness while chopping fruits.
The vegetable cutter features a non-skid base, which is incredibly effortless to use. The large container is manufactured of unbreakable plastic that increases its lifespan.
The chopper comes with advanced push buttons that help you clean easily. You can also use a container to store contents in the refrigerator.
The product's blades are designed of top-notch quality stainless steel for an effortless and smooth chopping experience. These are designed pyramids and sharp to ensure uniform cutting experience.
Specs Overview:-
Color:- Green and White Color
Package Contents:- 1 safety holder, one masher, one peeler with a grater, one plastic container, one handle with cleaning press
Model Number:- Solimo 500ml
Material:- GQD
Warranty:- NA
Weight:- 920 Gram
Dimensions:- 29.5 x 10.8 x 12.8 CM
---
Next up on the list is one of the most luxurious vegetable choppers from Glen. It is incredibly spacious, having a capacity of around 500ML that is sufficient to chop a considerable amount of content.
It comes with four cutting edges and twin blades that reduce the chopping time by around 30%. The rust-resistant steel blades enhance the overall lifespan of the device.
The nonslip ring makes sure that the chopper gets better stability and doesn't move during the operation.
The vegetable cutter has a transparent bowl that is break-resistant. It is made of food-grade material to retain the uniqueness and freshness of the contents.
You'll get an additional unit named as a whisker disc, which is specially designed for churning butter, creams, egg beating, frothy batter, etc. It is equipped with a robust 200 Watts to perform even heavy-duty tasks with ease.
Specs Overview:-
Color:- White and Black
Package Contents:- 1 Chopper
Model Number:- SA4043TURBO
Material:- ABS Plastic
Warranty:- 2 years warranty (T&C apply)
Weight:- 1KG 350 Gram
Dimensions:- 32.3 x 15.6 x 15.5 CM
---
You can consider a food processor a lot more than a vegetable chopper. The reason being, it serves multipurpose to the best of its ability.
You'll get access to a plastic ladle style turner which you can use for mixing food. Additionally, there are three metal stainless steel blades that you can use for precise chopping.
The chopper consists of 4 different settings and a couple of turn handles. The settings can be used to select the precise size dimension of the chopping requirement.
There is a whisking attachment available in the package contents that help you make cream and yogurt, whip eggs with ease. The vegetable chopper is hugely spacious, with a capacity of 500ml.
Specs Overview:-
Color:- Black
Package Contents:- 1 Food Processor Cum Chopper
Model Number:- 63152432
Material:- Plastic Polycarbonate
Warranty:- 1 years warranty (T&C apply)
Weight:- 770 Gram
Dimensions:- 27.9 x 30.5 x 25.4 CM
---
You'll undoubtedly forget to search for buttons with this model of vegetable chopper. It comes with a 300 W robust motor, which is perfect for performing heavy-duty tasks.
There are no blind spots. It is compact and occupies almost very little to no space in the kitchen. You can view the chop status through the transparent bowl.
It comes with Bi-level Aer04 high-quality blades that maximize the efficiency and saves your valuable time spent on chopping.
This vegetable cutter has a unique zippy press on top, which finishes the job exactly as you demand. The product comes with one year of warranty (T&C apply)
Specs Overview:-
Color:- Chopro Black & White
Package Contents:- 1 Chopper
Model Number:- Chopro
Material:- Stainless Steel/Plastic
Warranty:- 1 years warranty (T&C apply)
Weight:- 980 Gram
Dimensions:- 22.2 x 13.8 x 13.6 CM
---
The next up in our list is the most affordable vegetable chopper. Prestige is one of the best brands of the pressure cooker. They even have some great stainless steel products for the kitchen.
It is a non-electrical product, which means you wouldn't need electricity to use it. With just a simple pull of handles, you'd be able to access it, and it performs the process efficiently.
The chopper consists of sharp stainless steel, three inner cutting blades that offer durability and, at the same time, keeps the process smooth and efficient.
The body of the product is manufactured of polycarbonate. Additionally, it comes with a thicker blade shaft that ensures optimum and consistent chopping.
Specs Overview:-
Color:- Green
Package Contents:- Prestige Veggie Cutter
Model Number:- PVC 3.0
Material:- Polycarbonate Plastic
Warranty:- NA
Weight:- 281 Gram
Dimensions:- 16 x 14 x 10 CM
You may like – 9 Best Mixer Grinders in India
---
If you are looking for a premium quality vegetable chopper, this one would most certainly be the best fit.
This product has the sharpest blades in the entire list; they are made of rustproof SS420 grade stainless steel material.
This vegetable chopper is specially designed to save your valuable time in the kitchen. With just a couple of pulls, it makes the chopping and cutting experience hassle-free.
It is a multifunctional bowl. You can even convert it into a storage bowl by covering the preparations with the storage lid provided.
The package contents include one chopping blade, one multifunctional bowl, one blending blade, one chopping lid & one storage lid. Lastly, the blending blade is manufactured from ABS plastic, making it entirely safe to store food.
Specs Overview:-
Color:- Grey & Orange
Package Contents:- Chopping & Storage Lid
Model Number:- APC1
Material:- Plastic
Warranty:- NA
Weight:- 350 Gram
Dimensions:- 13 x 13 x 15 CM
---
Home puff vegetable chopper is none other than a versatile tool that is extremely easy to install, assemble, and use. With just simple pulls, it can even chop vegetables like onions and garlic.
The product features comforts, a soft grip lid, a large handle, sharp stainless steel blades for quick chopping, and an anti-skid base for better stability. All these features make it reliable for a modular kitchen.
Dissembling the vegetable cutter is now easier than ever; this ensures you can easily clean the product. All the storage lid, blade & bowls are entirely dishwasher safe.
You can even make baby food in this chopper. The storage lid helps you keep the contents fresh inside the refrigerator.
Specs Overview:-
Color:- Grey & Green
Package Contents:- 1 N Chopper
Model Number:- H14
Material:- Plastic
Warranty:- 1-year warranty
Weight:- 390 Gram
Dimensions:- 13 x 13.2 x 15 CM
---
The second last vegetable cutter of our list is a jar shaped product. It has a capacity of 600 ml plastic bowl with a lid included.
The chopper has a robust motor of 300 W that includes a mounting switch for extra safety measures. The engine makes minimal noise during the operation without compromising the desired results.
It consists of inbuilt auto cutoff thermal protection features like how it is equipped in water heaters & geysers; the feature ensures to protect the motor from getting heated.
The vegetable chopper comes with two sets of sharp-edged stainless steel blades for the best chopping experience. There is an anti-skid rubber base that doubles as a lid. Additionally, it makes it extremely portable and easy to use.
Specs Overview:-
Color:- Black
Package Contents:- Chopper, Chopping Container, Blade set and Rubber Lid
Model Number:- BCH20DBB21
Material:- ABS Plastic
Warranty:- 2 years on the product (T&C apply)
Weight:- 960 Gram
Dimensions:- 12.6 x 12.6 x 25 CM
---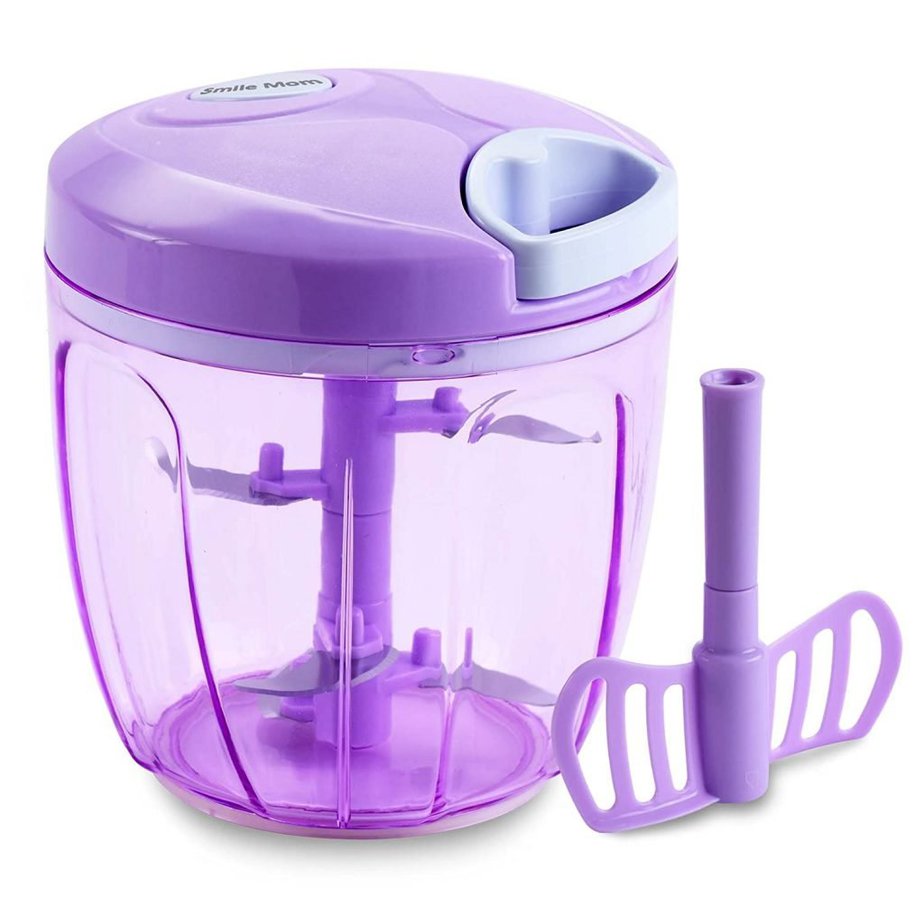 As the name suggests, smile mom vegetable chopper has a shiny appearance, and the color is different compared to the entire list.
There is a safety lid lock that ensures the content ingredients remain intact while chopping. Furthermore, there is a non-slip silicone base that provides better stability.
It has high quality and durable food-grade non-toxic plastic that ensures that the contents inside remain fresh and healthy.
Additionally, it is pretty easy to disassemble all the parts of the unit and wash them individually. Other than that, you can rinse them underwater and dry them using a soft cotton cloth.
Specs Overview:-
Color:- Violet
Package Contents:- High-quality ABS storage bowl
Model Number:- SM-A103
Material:- BPA Plastic
Warranty:- 6 months warranty (T&C apply)
Weight:- 340 Gram
Dimensions:- 24 x 13.2 x 13 CM
---
Best Vegetable Chopper in India – Buying Guide
As we discussed above, buying a vegetable chopper isn't that challenging or tricky. You need to remember that there isn't a lot as it's just a plastic machine that helps you cut vegetables.
Additionally, there aren't many spare parts that you need to look at individually, as it is a simple piece of plastic with blades. However, I'd still cover some essential information that you need to keep in mind before you proceed to buy a vegetable chopper for your house.
Let's dive in!
1) Capacity Requirement
Now, this is very simple; a vegetable chopper comes in different sizes, variations, and capacity. Hence, the capacity you should opt for entirely depends on the contents that you'll chop regularly.
Suppose if you need the vegetable cutter for chopping only small pieces of contents such as ginger, garlic, dry fruits, and so on. Then a product with less capacity would conveniently suffice your requirements.
However, if you chop vegetables such as onions, fruits, or mincing meat, eggs, then go ahead with a large capacity product to fall short of the requirement.
---
2) Check whether it is multifaceted
This is not considered crucial; however, if the chopper is versatile, it would be even better.
The majority of the vegetable cutters work fine for chopping and dicing. The only thing is that these products aren't capable of performing grinding.
It will help if a chopper cuts vegetables in different sizes as you desire. This quality is most common in electric choppers; they do initially have the grinding capabilities.
Recommended – 9 Best Vacuum Cleaners in India
---
3) User Friendly & Easily Accessible
An easy to use vegetable chopper is one of the essential aspects you need to consider before making a final call.
The majority of the choppers are less than 1KG and insanely small in size that makes them compact. But since they look simple, some models come with different designs and operation modes.
Usually, these are either pulley mechanisms or press boxes. To make it more convenient, you can opt for the press box cutters. The reason being, they do not require much effort or energy while you chop and get the job done in a precise manner.
Another thing that you should consider is that the spare parts should get easily separated. And it should also work as a storage box so that you can store contents in the fridge. Additionally, safe dishwasher choppers would be even better.
---
4) Maintenance
Maintenance is none other than keeping the vegetable chopper clean. You won't have to worry about refilling anything.
Cleaning utensils or knives is pretty easy, right? But when it comes to a chopper, you have to be even more careful. The reason being, there are different boxes, sharp blades that need to be separated before you wash.
Hence, choose a decently designed vegetable cutter, which is hassle-free to disassemble so that you can easily clean it. Some of them are dishwasher safe, as well.
Make sure to take proper precautions while cleaning the chopper because there are sharp blades that can cause deep cuts. You can also review the user manual that comes along with the package for cleaning reference.
---
5) Quality & Material
Usually, the body of a vegetable chopper's material quality is plastic, and you're good to go. However, the blade's content and quality matter as it is the only thing that's going to finish the job.
Vegetable cutters come with various blade materials; however, stainless steel is the most reliable material. Stainless steel is pretty easy to clean and maintain. Additionally, they are rust and corrosion-resistant.
These were all the crucial aspects that you need to look at before you buy a food chopper.
Now, we will discuss its types, and how it varies, the vegetable chopper comes in two different varieties – manual and electric.
6) Manual vs Electric
Electric models are priced slightly higher than the manual ones; however, they certainly value your money. They are usually used in restaurants and hotels. Nevertheless, you can use it for your home as well as they look perfect in modular kitchens. They make the job much more accessible and convenient.
Manual choppers have a simple yet effective process. They don't require electricity and can be found in the majority of the houses. It is perfect for traveling, camping purposes, people who don't want to rely on power grids. They are made of plastic; you just have to place the vegetables inside and close the box, you're all set.
Now, I'm going to present a table that will help you understand the difference between features and reliability.
| | |
| --- | --- |
| | |
| Ideal for chopping vegetables | Ideal for chopping vegetables and meat |
| | |
| Available in different colors and designs | You can get color choices in electric as well |
| | Weight is comparetively higher |
| | Some electric models contains storage box |
| Can be used to mince meat | |
| Easily accessible and cleaning | Cleaning can be a bit challenging |
| Ideal for traveling purpose | |
Frequently Asked Questions for the Best Vegetable Chopper
1) Can you use a vegetable chopper as a blender as well?
Well, the answer to this question is indeed a NO. Being a vegetable chopper is used to chop and cut vegetables, fruits, and other contents. Whereas, the blender lets you make juices or even kneading.
2) Will a vegetable chopper save my cooking time?
The answer is pretty simple; just like we discussed above, a person who cooks knows the pain, effort, and time duration that it takes to cut vegetables. While cooking, chopping is the most time-consuming process. Hence, a vegetable cutter gets this job done effortlessly and makes it convenient for you.
3) How good are vegetable cutters?
Investing in a vegetable chopper would undoubtedly result in a wise decision. It is cost-efficient and works for years because of the simple mechanism unless it's broken. Additionally, it reduces your cooking time and efforts.
4) What is the difference between manual and electronic cutters?
As we discussed, electric choppers require electricity and are mostly used in restaurants and hotels. Simultaneously, a manual vegetable chopper is preferred for household purposes to perform simple cutting tasks.
5) How are food processors and vegetable choppers different?
Though both of them work to chop and cut vegetables, however, food processors can even mix up various ingredients. In contrast, a vegetable chopper can only help to chop vegetables.
6) How about the maintenance of a vegetable cutter?

There is no such maintenance requirement for a chopper. You just need to separate the boxes and clean them at regular intervals. You can wash them using a dishwasher as well.
---
The Verdict
A vegetable chopper is a must appliance in every household nowadays. Though it seems like a simple plastic device, it would certainly save your valuable time of the day.
After comprehensive research, reviews, and interacting with many users, our team has compiled this list of best vegetable chopper in India along with the buying guide.
I hope you like this comprehensive article, in case of any doubts, queries, or suggestions. Feel free to post it in the comment section below; we'll get back to you as soon as possible.
After all, a happy customer is what matters!
---
Last update on 2023-04-02 / Affiliate links / Images from Amazon Product Advertising API